Neighborhood House welcomes individuals or groups who wish to volunteer. One-time, short or long-term options are available to accommodate today's busy lifestyles. Opportunities include event support, special children and adult program projects, donation drives and more! ALL volunteers working with clients need to be fully vaccinated for COVID-19.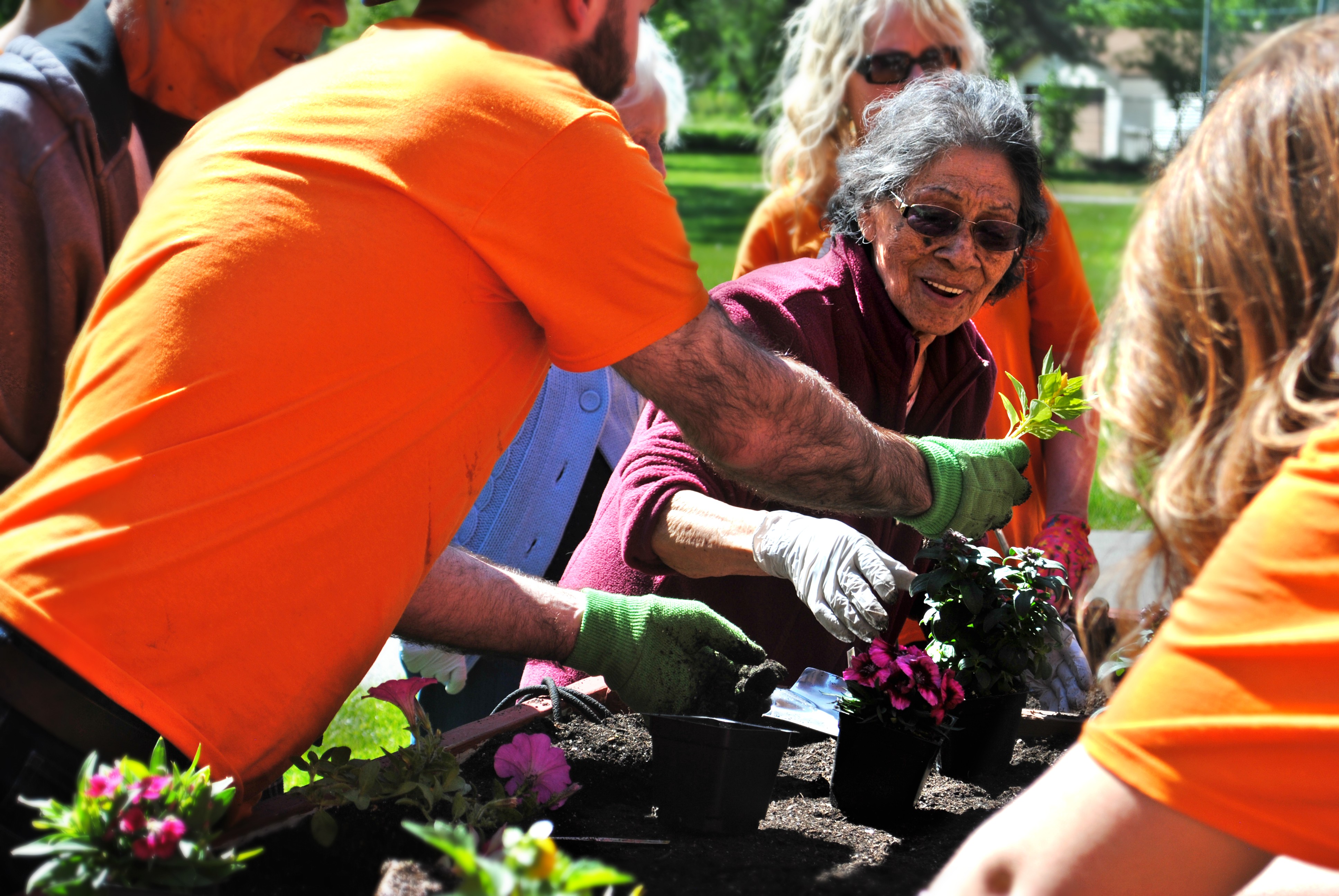 Volunteer Opportunities
Here are our current individual volunteer opportunities. To sign up for one of them, please follow the link to the Volunteer Application and Neighborhood House Volunteer Coordinator will get back to you. If you are looking for group volunteer opportunities, please fill out the Group Application Form below.
Neighborhood House Daily Operations

Monday, Wednesday and Friday from 3:00 pm – 5:00 pm.
As Neighborhood House grows and serves more community members, more and more support is required from our volunteers to provide a wonderful service to our clients. From weeding, to cleaning vans, and IT support we need your help to provide a safe and clean environment to anyone who walks in Neighborhood House doors. Fill out the volunteer sign-up form to support Neighborhood House!
Neighborhood House Donation Closet

Every Tuesday and Thursday from 2:00 pm to 4:00 pm.
We are so grateful for all the in-kind donations we receive daily from generous donors! We need your help organizing and categorizing the donations we receive to make them available to our clients. Fill out this form to volunteer at the Neighborhood House closet.
Volunteer in a classroom

Depending on the day and program, Monday through Friday any amount of hours you can give from 9 am to 5 pm
Do you love working with kids? Look no more! This opportunity requires volunteers who love to interact in the classrooms. You can join our Toddler, Preschool, or School-Age program. Volunteers will follow COVID-19 safety guidelines to keep you and everyone safe. We will set up the time that best works for your schedule once you fill out the form below.
Volunteer to organize the Food Pantry

Every Tuesday at 12:30 PM - total time commitment is no more than 2 hours
We have reopened our Community Food Pantry! With the help of the Utah Food Bank and your support we are be able to help provide food security to our families. We need two volunteers, able to lift 25 lbs, that can help us restock our Food Pantry. Fill out the "Individual Volunteer Form" below to sign up.
Perform in the Adult Daycare Center

Depending on the day and program, Monday through Friday any amount of hours you can give from 9 am to 3 pm
We are excited to reopen the doors to volunteers at our Adult Day Care Center! If you would like to share your performative talents with our community of aging adults and adults with disabilities, we want to see it! We are looking for singers, dancers, musical instrument players, magicians, actors, etc. Sign up in the link below and let's make the fun begin!
Special Events

Neighborhood House is starting to organize monthly events again! And we need your help to make them amazing! The upcoming special events are:

Spring Carnival on April 21 from 4:30 to 6:30 pm.
Breakfast with a Buddy on May 12 from 7 am to 9:30 am.
Summer Celebration on June 10 from 3:30 to 5:30 pm.
Individual Application Group Application
Become a volunteer in three easy steps:
1. Submit your Volunteer Application.
Individual volunteer applications are accepted year-round.
Group volunteer inquiries are accepted year-round.
Please note that we do not accept volunteers completing court ordered community service hours.
2. Complete a brief interview to determine the best fit.
For individual volunteers, interviews are conducted at the beginning of your onsite volunteer orientation.
For volunteers working directly with clients, a criminal background check may be required.
3. Finalize your schedule and get started!
We are always happy to answer questions about our volunteer program, and hear your ideas about the ways in which you and your company can help us! Please reach us at or (801) 363-4589 ext. 122.